This is why—and you may have wondered—I call it a visual blog in the little "about" text at the bottom (not to mention the teaser front page that was there for almost a year, goddammit). This place is not just for readin'. If you don't have time to read, you can at least look at the pretty pictures. Or, well, graphics. Or whatever.
But I am not the only one with this opinion. New York graphic designer Jason Santa Maria has been writing (quite stunning, I might add) visual blog posts since June of 2008, back then calling it a rethinking rather than a redesign. Since then, the idea has gradually gathered more steam as more blogs of these kind started appearing. But the spotlight really turned in the direction of these kinds of blogs when Belgium UX Designer Paddy Donelly posted a grandiose and seemingly all-encompassing visual blog post on big-time web design blog Smashing Magazine, declaring "the death of the (boring) blog post" and dubbing this new technique the blogazine, referring to the everchanging layouts of prominent articles in magazines.
A backstory
While I'm excited to see progress in this blogging format, recent events undoubtedly seem to put me in the light as potentially just a guy that jumps on a bandwagon, when in reality, my story is a much different one.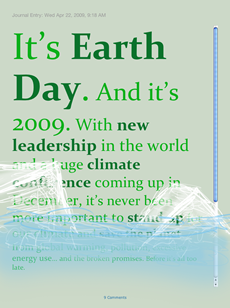 For many years, I've been a member of the online art community deviantART, and they've had blogging capabilities built in since before blogging became ubiquitous (probably also why they're called journals rather than blogs). In 2006, they launched the possibility of adding custom CSS to your journals, and because I had been working with HTML and CSS before, with great joy I started joining the masses and started experimenting. While most people started to install certain styles that they had on their journals for months or even years, I couldn't settle on one, and I started to change it all the time. After a while I began to realize I could code the CSS for the content and write the content for the CSS.
And that's what a visual blog is all about. It's a culmination of design and content. It's acknowledging that they go hand in hand naturally and always will, at least for me. I don't like the term blogazine because of its manifactured relationship to the paper counterpart; the magazine. This is not about anything else. I don't want to be confined to anything. I want to write a blog, and I want to design it visually.
And this is what you'll get here. Welcome to my visual blog. And welcome to 2010. May it be awesome.