Links to way cool places
Because, believe it or not, there's some pretty cool things on the internet
When I'm not working on creating things, I like to stay up to date by reading or participating in cool sites on the internet. Here's some that I think you should check out—they're either a good place to spend some time or a site with good reading material. List taken straight from my Google Reader.
My favourites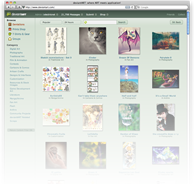 Art community, my second home. Been a member for 7 years.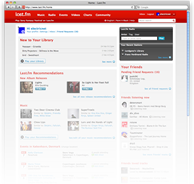 Music community where I share my stats and I see what I like most and what I might also like.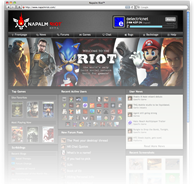 Upcoming gaming community that has great potential.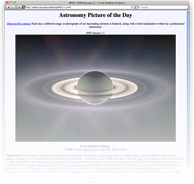 Gotta love it.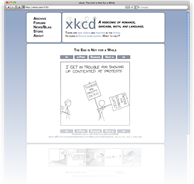 Please don't tell me you don't know this hilarious geeky web comic.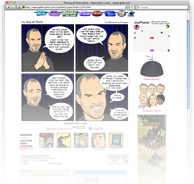 Wonderful and nerdy web comic by Nitrozac and Snaggy.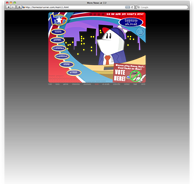 Flash-enabled hilarious tales from Homestar, Strong Bad and the rest of Free Country, USA.
All links
| | | |
| --- | --- | --- |
| .think | http://blog.brainstormbrand.com/ | blog |
| 24 ways | http://24ways.org/ | web |
| A List Apart | http://www.alistapart.com/ | web |
| Ad Goodness | http://www.frederiksamuel.com/blog/ | design |
| AisleOne | http://aisleone.net/ | design |
| Alert Debugging | http://www.alertdebugging.com/ | coding |
| The Art of M.S. Corley | http://mscorley.blogspot.com/ | design |
| Avalonstar | http://avalonstar.com/ | blog |
| Bad Astronomy | http://blogs.discovermagazine.com/badastronomy/ | blog, science |
| The Big Picture | http://www.boston.com/bigpicture/ | photo |
| Brand New | http://www.underconsideration.com/brandnew/ | design |
| Camen Design | http://camendesign.com/ | blog |
| Cinemassacre | http://www.cinemassacre.com/ | humor |
| CSSplay | http://www.cssplay.co.uk/ | coding |
| Daily Drop Cap | http://dailydropcap.com/ | design |
| Daring Fireball | http://daringfireball.net/ | blog, web |
| Derek Powazek | http://powazek.com/ | blog |
| Design View | http://andyrutledge.com/ | blog |
| Digital Photography Review | http://dpreview.com/ | news, tech |
| Engadget | http://engadget.com/ | news, tech |
| Epicenter | http://www.wired.com/epicenter/ | tech |
| Fail Blog | http://failblog.org/ | humor |
| Full of Good Coffee | http://blog.soli.me/ | blog |
| Google LatLong | http://google-latlong.blogspot.com/ | web |
| High Performance Web Sites | http://stevesouders.com/ | web |
| The How-To Geek | http://howtogeek.com/ | tech, web |
| I Love Typography | http://ilovetypography.com/ | design |
| Ikea Hacker | http://ikeahacker.blogspot.com/ | humor |
| Information Architects | http://informationarchitects.jp/ | web |
| Information is Beautiful | http://www.informationisbeautiful.net/ | design |
| Jason Santa Maria | http://jasonsantamaria.com/ | blog, design |
| jQuery Blog | http://blog.jquery.com/ | coding |
| Last.fm Blog | http://blog.last.fm/ | blog, music |
| Lifehacker | http://lifehacker.com/ | tech, web |
| Lovelypackage | http://lovelypackage.com/ | design |
| MacRumors | http://macrumors.com/ | news, tech |
| marks.dk | http://marks.dk/ | blog |
| Mashable | http://mashable.com/ | news, social |
| mikkelmarius.dk | http://mikkelmarius.dk/ | blog |
| Ministry of Type | http://ministryoftype.co.uk/ | design |
| Photoshop Disasters | http://photoshopdisasters.blogspot.com/ | humor |
| Pitchfork | http://pitchfork.com/ | news, music |
| Pogue's Posts | http://pogue.blogs.nytimes.com/ | tech |
| Popjustice | http://popjustice.com/ | news, music |
| The Secret Diary of Steve Jobs | http://www.fakesteve.net/ | humor |
| SimpleBits | http://simplebits.com/ | blog, web |
| Spacesick | http://spacesick.blogspot.com/ | design |
| spiri.dk | http://spiri.dk/ | blog |
| Stopdesign | http://stopdesign.com/ | blog, web |
| supertroels.dk | http://supertroels.dk/ | blog, music |
| Think Pink | http://blog.elliottkember.com/ | blog |
| Trent Walton | http://trentwalton.com/ | blog |
| Wired Science | http://www.wired.com/wiredscience/ | science |