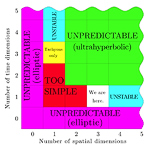 Apparatjik
Snow Crystals
Originally released February 1, 2010
3:23
From the album We Are Here (pictured)
"One of them is the world collapsing on the finishing line"
You may have heard of rock "super groups"; bands with members taken from some of the biggest bands of our time, acting as their channel for musical experiments while they're taking some time away from their main band. Apparatjik is one of them. With a member from Mew, A-Ha and Coldplay along with a producer, these guys are anything but newcomers to this industry.
With a visual imagery that feels like it was created by uncanny basement scientists on crack, this band takes us through stories of a future earth and of ultimate science or philosophic geekery; with a subparticle reference on the front cover of their debut album and several parts sung by Microsoft Sam or equivalent voice synthesizing software, this is hard to miss.
You won't find any of that on Snow Crystals, the album track I want to feature. However, you will find many synthesizers and good rhythms, just like you will on the rest of the record. On this track in a decidedly eighties flavour and a heavy reference to some of the weather we have the pleasure to experience every day in the north.
With a simple hook, an even simpler bridge on top of sweeping synths, this track sounds like Human League with a falsetto on a vacation to the wintery northern lands. It's cool, it's groovy and it deserves a listen.