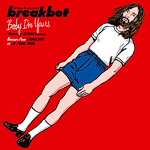 Breakbot
Baby I'm Yours
Originally released February 15, 2010
France
3:37
"I was led astray the day you walked away"
Andy's Song of the Now returns from a 2-month summer break with the tunes that have been bubbling inside of my mind during the summer. One of those is this incredibly charming retropop track from a French synth whiz and Jesus-lookalike known as Breakbot. This is his debut single, and it's a collaboration with another French DJ known as Irfane, who I'm assuming is providing the vocals.
It's been out for quite a while, being first released in February, yet for some reason it took a good six months before it found its way to my ears. That's alright, though, because it's a song that fits the sweet summer months better than the chilly wintertimes.
The track itself is an innocent throwback to the seventies and is one that mostly consists of various ways of the lead singer trying his best to communicate to a girl that he loves her and she is his everything. Stack this on top of various layers of good ol' analog synths, guitars & pianos and we've got a very decent retropop track.
Couple this with the new music video released this June which consists only of around 2000 watercolour images, and you've got something really impressive. Enjoy!
1 comment