When a year is nearing its end, it's normal to look back on the ups and downs on the year, especially if you publish some form of content. Being that I do that, I asked myself the question: What was the one song I had listened to the most during the year? Which particular song had frequented my media player the most during the last 365 days? The answer may surprise you, because it's not a song that was released this year. But that's really the essence of my song of the now series; it's random and unpredictable, and most importantly it's not necessarily the newest and hottest song being featured. It's whatever I happen to stumble upon; it's very personal, really. (But with that said, I am going to write a best music of '09 article soon.)
I like to say that the year of 2009 was a year where I discovered music. It was the first year of this music blog and after a successful year I can admit to anyone that when you start writing about music, you automatically get way more involved than you would ever be if you never started. I've discovered and played tons of new artists, but none as much as one of my now favourite bands, the English electropop band Hot Chip. Even though I had unknowingly heard several on their songs on the radio, if you were to ask me who they were in January, I wouldn't have had a clue. Now I own all of their albums and anxiously wait for their fourth release coming up next February.
It all started with Ready for the Floor. The first single from their still-newest album from 2008, Made in the Dark, it was also their most successful and it got quite a bit of airplay, leading to me hearing it often on the radio at the time. I forgot all about it, then suddenly one fateful day in spring of '09, it somehow relentlessly made its way inside my head and I discovered it for real. Since then, I've almost written a song of the now post for it several times. The song itself is titled the way you'd think a stereotypical R&B mega hit would be, all the clichés included. But the reality could not be farther away from that first-hand guess.
Filled to the maximum with layers of different synths, drum machines (in addition to the occasional electric guitar) that are all dancing about, jumping in and out and switching places with each other, it sounds like stacking all the raw layers on top of each other would create a pile as high as the Eiffel Tower, witnessing the insane amount of polish given to the music in this song. You can listen many times and still find new details and variations in the absolutely flawless and incredibly groovy soundscape.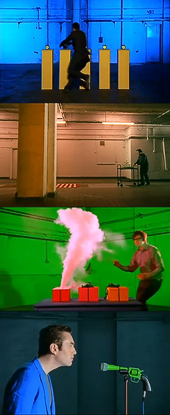 Even though this song is very upbeat and a perfect choice of soundtrack for a good time, something's not as right when you look at the lyrics, however short they are; there's a conflict going on and lines like "I can't hear your voice / do I have a choice" make it quite obvious that there is some awkward silence in the midst of the pulsating rhythms. The protagonist seems to want to communicate, but to no avail. However, lines like "You're sinking below / I'm using my force" make it sound more devilish.
It gets even weirder when you look at the music video. It takes place in a warehouse filled with weird colours, mindless everchanging obstructions, blinking lights, microphone/gun hybrids, stressful tasks and a big brother contra twoface-ish menace, played by vocalist Alexis Taylor, overlooking all of the crazy business, seemingly killing off every band member one by one.
The video raises more questions than answers, and it would undoubtedly rank very high on any top 10 of most bizarre music videos, but what I really think is interesting is hidden in the smaller scenes. Every individual band member except Taylor has a weird and unsettling task they seemingly have to do. Bandmember Owen Clarke runs around stopping alarm clocks that go off at random while Joe Goddard uneasily pushes a cart with many wobbly glasses filled with unidentified liquid over a patch of unsteady grass. The patch is just as wide as the cart itself in the middle of a large industrial room with an abundance of firm concrete floor, and that only leaves us all strikingly bewildered when it comes to the purpose of it all. And those are just the start of all the problems you'll have if you fancy analysing this video.
What the lyrics hint at, the video pushes a step further into obviousness. There's something going on, and it's stressful. As if attending a party in hell and frantically trying to get ready for the floor while your date is carving up the wall and you are ready for a fall. I love songs like this. It's incredibly joyful to listen to, but it's also very interesting to take a deeper look and find out that the song is not just there to entertain. And the more you look into the meaning of the song, the less the meaning looks to imply that the protagonists are actually "ready for the floor". And that's interesting.