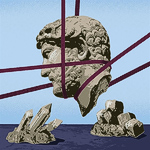 Hot Chip
Take It In
Originally released February 1, 2010
United Kingdom
4:10
From the album One Life Stand (pictured)
"An hourglass may grab my attention, but I am in the need of affection"
Today, one of my favourite bands, Hot Chip, release their fourth album One Life Stand. I've been listening to it for a while, and while there are a lot of great tracks on it to look forward to (and you really should buy it), I'd like to highlight my favourite track from the record, and that is the closing track, Take It In. Opening with a catchy guitar riff and soon exploding into synthy goodness combined with de facto gospel, this track exemplifies the band's amazing ability to combine many genres into one hella catchy pop track.
Hot Chip usually creates both synth heavy club stompers and minimalistic ballads, but as Joe Goddard passionately serenades tales of delicate and innocent love stories on top of drum machines overlayed with an old style grand piano, a dominating electric guitar and some pretty hefty vocal harmonies, it's increasingly apparent that this is an exact midpoint between those two extremes that the band is so well known for.
The brand new album from Hot Chip has a lot of memorable songs, and this is one of the most heart-warming tracks, and I encourage you to check it out. Since I preordered the album when it was first announced (I am a fan after all), I was lucky to receive this particular track as a sample in the e-mail a couple of months back, and I've enjoyed every play since then.