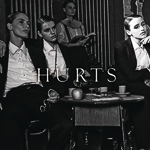 Hurts
Better Than Love
Originally released May 24, 2010
United Kingdom
3:30
"Every minute more brings you closer to God"
Let's face it. I've featured so many eighties-inspired synth tracks on this blog that everyone, even from long distance with binoculars, can see that I'm the biggest synthpop lover. But with every cupcake, there has to be a cherry on top. A carrot at the end of the string, if you will. The climax at the end of the story. The one thing to top it off. And it is with this analogy that I present to you the latest in a string of eighties-themed songs. This single, dubbed Better Than Love, is by a band that is perhaps more inspired by the aforementioned decade than anything else I've ever featured (seriously!), the Manchester duo Hurts.
These two British dudes take inspiration from a forgotten genre called Disco Lento, which is a melancholic take on the upbeat disco genre (it is literally translated as slow disco). And they go all the way. The band, who've previously released the popular song Wonderful Life, has an image to match this lugubrious genre. They look like they've had an at least moderately crummy day on every single photo shoot, where they wear dull grey linen suits and appear as if they wouldn't dream of cracking even the slightest smile at any given moment, only capable of staring indifferently into (or away from) the dark and mechanic camera lens.
Where their previously mentioned debut single was a slower, more story-telling oriented song, on this track they crank up the BPM rate and let emotions go wild on a couple of frantic synth riffs, further confirming that they seem like a band that consists of one person pouring their scarred soul into the arpeggiating synthesizer while the other sings smoothly on top.
And it works. Better Than Love, out on physical media today, is a great track and another reason for me to feverishly anticipate this band's debut album out later this year. It's a radio-friendly dancefloor anthem with a scary lyrical depth.