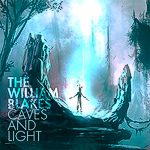 The William Blakes
Caves and Light
Originally released June 22, 2010
Denmark
3:39
"There's a rope of light in the sky"
This month has been an explosion of good music that I haven't had the time to write about. So, I'll pick the cream of the crop for your enjoyment, but it might involve locating the nearest mystical forest. Wait… what? I'm talking about a recently released track from a band of artists previously featured on this blog, the Danish pop/rock band The William Blakes. They just released the lead single from their upcoming third album, and it's called Caves and Light.
I haven't heard all of their songs, but from what I have heard, their usual songs are engulfed in funky rhythms, catchy beats and a sort of sense of kicking ass. Marking a slight change from that, the four boys in the band now take a step back and create an atmosphere which is much more zen.
Glooming synths form the bottom of the soundscape, with singer Kristian Leth's voice singing of the mystical forces of nature, filling up caves upon caves with his echoed vocals. But—it's not just a glorified yoga session. Drum machines, percussion and harmonized vocals gives all the magic a certain rockability, along with a touch of guitar here and there. The track—co-produced by Kent-famed producer Jon "Joshua" Schumann—is both lean and magic as if portraying a samurai on the move, slowly creeping through the entranced woods, taking it all in.
So pause all your summery saxophonified house tracks, and enjoy a trip to the warrior's meditation meadows with an ethereal song that would easily fit within a soundtrack from a high-profile adventure movie.
1 comment