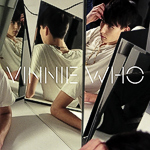 Vinnie Who
What You Got is Mine
Originally released February 1, 2010
Denmark
3:40
"I never saw you on the other side"
Sometimes, when discovering new music, you dismiss it at first listen. Either it doesn't sound good, doesn't speak to you or just doesn't seem to be your genre. Sometimes this first-hand decision is a makes sense, other times it's catastrophical.
In the first couple of months of this year, I've dismissed a lot of new tracks; my excuse being that I was horrendously busy. And some of those decisions have regrettably come back to kick me in the nuts.
The track What You Got is Mine by debuting Danish disco act Vinnie Who, is one of those. When it was first released (and prominently featured on radio stations and music websites) back in February, I dismissed the track for it being too R&B-ish (a genre that is really not one of my favourites), when in fact, it's nothing like it. I didn't even have the time to seriously listen to it. It was just a combination of the cliché'd song title and the cover image that did the trick. I filtered it out of my vision based on nothing but prejudice and generalization.
And boy, have that decision come back to haunt me. Because this has over the past month suddenly turned into one of my favourite tracks of 2010 so far. What You Got is Mine is what one might call new disco. It's a distinctively synth-flavoured disco-esque track with crazy catchy hooks, bad-ass guitar riffs and great falsetto vocals to top it off—singing slightly melancholic lyrics no less.
Seriously. You can talk about music that grows on you, but I need to stop dismissing stuff that I may end up loving. Because I feel like I wasted a lot of time by not at least giving it a spin a little sooner.
This catchy sunnuvabitch is written by Vinnie Who front man Niels Bagge and co-produced by prominent Danish producer and cool guy Lasse Lyngbo.
Listen, now. You're welcome.