Yesterday, I released something I've been working on for a long time. It's a Twitter-related project; it's called Like it? Tweet it! and stems from a certain annoyance I've had for a long time: the general state of "Tweet this" buttons across the internet. Sure, you can advocate that they're easy because they're one-clicks, but, once you click on them, most of them result in half-hearted auto-tweets at a time where the opposite is needed. The select people who want to share your stuff are those who like it most—don't you think they can write something about it themselves?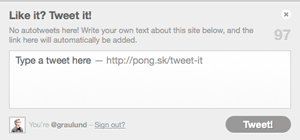 So my idea was to create an easy-to-install tweet box that would float in the corner of the site when activated, making it easy to write about the site ('cause you're looking at it!). Additionally, it would already be populated with a link, thus eliminating the need to have to worry about creating a shortlink and all that. Just write it!
At first, the script directed you to Twitter's front page to post the tweet, though. However, amid this development, Twitter's new @anywhere API platform launched: A platform that makes it easy to embed dynamic Twitter.com functionality directly on your site. This was the perfect opportunity: I jumped on this new API and the script, completing the theme of ease of use, now supported tweeting directly from the page. And what was released today is the result. Check out Like it? Tweet it! →
The archive
But, as with a lot of good stories, there's a twist to this one: This isn't the only Twitter-related thing I've been working on.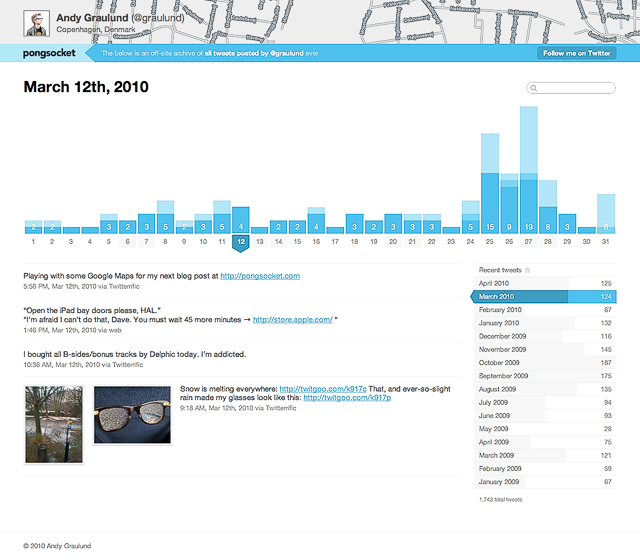 For quite a long time I've been thinking about how I could read some of the older tweets I had written a long while back. For example, what was I doing or thinking a year ago?
There's a couple of hosted tweet backup solutions, but I wanted something I had control over and could modify as I wanted. Then, last month, I came across a personal blog post from Doug Bowman, Twitter's Creative Director, in which he wrote of a solution he had created for himself based on WordPress and a couple of other tools. The result of this was a browsable and searchable archive of tweets in the shape of a site that simultaneously doubled as a local database backup of all one's tweets.
However, since it was based on WordPress, created and designed for blogging and not tweet archiving, it had a couple of flaws that I considered deal breakers in my case. But it set the inspiration for a home-grown-from-scratch PHP solution, and thus I spent many days creating my own personal searchable tweet archive. Its additional features include simple graphs, nailing down search queries to months and media embedded in the tweet being automatically thumbnailed and shown next to the tweet.
Very soon, I'm going to make this public as well for everyone to download and install on their own servers. And, just like Like it? Tweet it!, site admins will be the target group. That means that a lot of customization will naturally be available so you can show your kick-ass styling skills while people can browse your funny/clever 140-character utterings in your tweet archive.
One last thing: Right now, it's just called Tweet Archive, but it could need a better name: If any of you guys have any cool ideas, please send 'em my way. Finally, as mentioned, it's not available yet, but you can get a feel for it by checking out my personal tweet archive right now.
Suggestions? Ideas? Questions? This is the time to shoot 'em off.